My litttle cub bear... how I LOVE him. Today I received a call from someone
VERY
important that cant make the walk... needless to say, it broke my heart..
BROKE
.
Didnt I give you enough notice? Does Ethan mean
ANYTHING
to you...
People, I laugh at them... some have
NO
idea of our struggles...
Anyways, October is like HERE, (October is also Down syndrome awareness month)... and I have decided to take the 31 for 21 challange...for 31 one days YOU WILL SEE MY BLOGS POP UP as I talk (type) to something in regards to Ds.. whether it is something super exciting or not. About Ds itself directly or about life with Ethan... but I will blog.. .for 31 one days..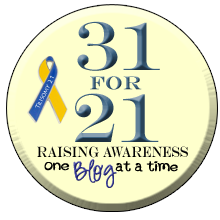 Grab This Button
... you are either with me...or you are not...
and I challange you to follow our journey for 31 days..